In October 2016, Èkó Samba Community were delighted to welcome Liam Emerson to Lagos, from across the seas in London, UK.
Liam started playing the drums aged 11, and was introduced to Samba Reggae at 14 when he joined Batala Portsmouth, which is part of a global network of Samba Reggae bands. This ignited his love for Samba Reggae, and he has been addicted ever since. Liam has performed in Wembley stadium, was part of ITV's opening video for the 2014 World Cup, participated in Salvador Carnival, and was the Musical Director of Batala London for five years.
We were lucky to have Liam stay with us for an entire month, over the course of which he taught us a lot of new things and deepened their appreciation for Samba Reggae. Even today, a year and a half later, we still play breaks and use drumming techniques that we learned from Liam. During his month in Lagos Liam made sure to see as much of the city as possible and even ventured to other Nigerian states. Liam became part of our community, playing, teaching and directing at weekly rehearsals and even joined us on outings across Lagos such as the White Space Block Party and Calabar Carnival launch party.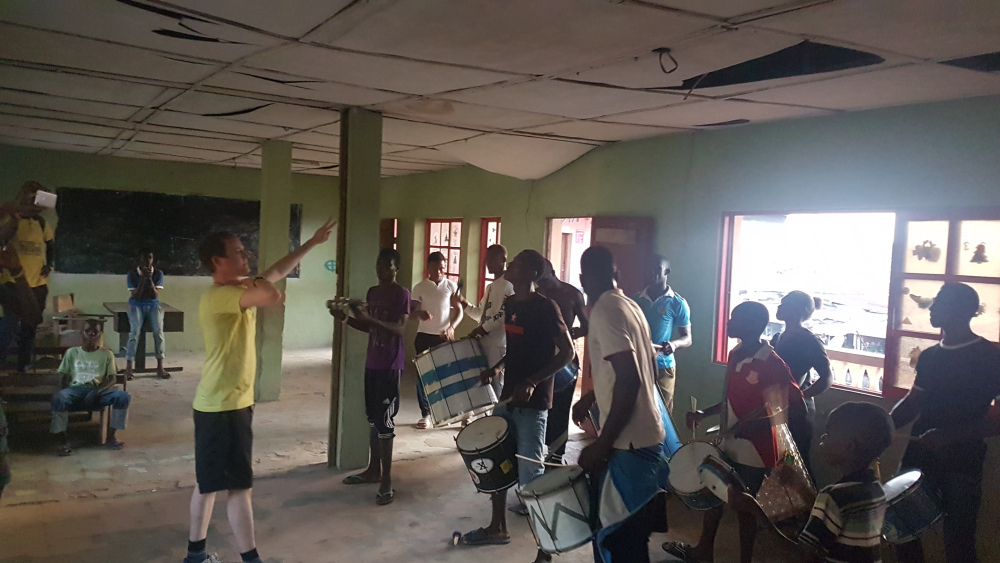 Above: Liam teaching the kids a new arrangement – "12/8 to double time 4/4 and back again"
Taken from – https://liamemerson.com/2016/10/20/128-and-voodoo/
Liam was blown away by our kids' talent and skill, and commended Èkó Samba Community on our efforts to bring music and community spirit to our little corner of the world.

"I am eternally grateful for the generosity of everybody in Èkó Samba and the chance to fall in love with this music all over again. The band sound absolutely fantastic and genuinely play like they're in Bahia – even better than that a lot of the time. The music sounds so beautiful when played by this band. It's so important that these projects are continually funded and can carry on. It was an experience that I think about every day and I miss everybody in Lagos very much. I can't wait to go back."
~ Liam Emerson, Musical Director, Batala London
Having someone like Liam visit the kids and help them develop their drumming skills is invaluable, and reminds us of the power of music, and its ability to traverse continents and bring people together. Through Èkó Samba, we try to give our young drummers both roots and wings; by bringing Samba back to its roots, from Brasil to West Africa, and by showing them just how far they can fly. Liam taught them a lot during his time with us, but we'd like to think that the kids taught him a thing or two as well.
Read more about Liam's trip to Lagos and beyond, on his blog, liamemerson.com